Posted on November 07 2017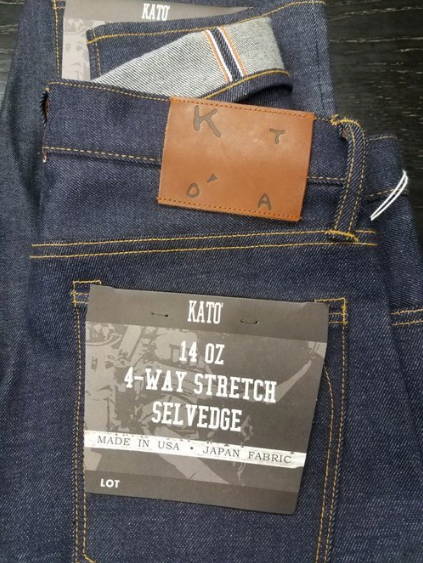 VINTAGE INSPIRED STRETCH DENIM 14oz
4-Way stretch denim by Kato' Brand. The worlds first 4-way stretch.
This 14oz middleweight '4-Way' stretch denim from Kato' Brand is the worlds first denim that stretches vertically as well as the usual horizontal stretch. This denim was painstakingly crafted to emulate the look and texture of vintage denim.
A 4-Way Stretch Selvedge that emulated vintage denim was the vision of Nick Noguchi. Nick worked with Kaihara Mill for a year to develop the fabric. Nick knew he wanted to produce a stretch denim on old vintage shuttle looms. No other miles wanted to work with him because using old shuttle machine and weave stretch in the war and weft was a crazy idea for them. 2way was possible to weave, but all the mills said weaving 4way stretch in old shuttle machine was not possible.
Part of the difficulty was that Nick wanted the spacing between the warp yarns to be right, with most stretch denim the wefts elasticity pulls together the warp so very little weft shows through the warp side, making a flatter surface that looks different then 100% cotton denim. Nick wanted the denim to look and feel like a vintage reproduction denim, testing out different weaves to get the right amount of weft popping through the warp.
This denim has been rope dyed with pure indigo and topped of with a slight redcast, to give it another vintage touch. After one month of wear it is clear that this will be a slow fader, which will give the denim low contrast fades and very vintage look.
This denim is very soft and probably the most comfortable denim I own. Because the stretch yarns are wrapped with cotton (India x USA x Pakastan), the hand feel is virtually indistinguishable to 100% cotton jeans, unless of course you give is a stretch. The great thing about this denim is that it retains its shape and actually has much less blow out in the knees than 100% cotton denim, so the slim tapered fit is achieved without the baggy knees, which happens to virtually every pair of slim and skinny jeans I own. In the pics below you can see there is no bagging or sagging in the knees or seat. I have worn these jeans for over 30 days straight with no soaking or washing. I even crouched down for about 5 minutes before taking the pics to really test the bounce back of this denim.
A fit like this in 100% cotton denim would be very tight and in my opinion, very uncomfortable for at least the first few months.
This pair was released by Kato' in the fall of 2016. Recently, the same mills that said it wasn't possible and would't attempt the 4-way stretch have started producing their own version. Sometimes you have to really push to achieve your visions, once you do, others will follow.
Kato' also makes a very nice black version of this denim in a slim tapered and skinny cut.